Treasury on Collins is one of the few independent boutique hotels in Melbourne.  We are not tied to any chain and that means we do things differently, borne from the freedom to make good ideas happen.
Our self contained suites and apartments offer free Netflix in every room, free unlimited high-speed WiFi together with kitchenettes, washer/dryer, private facilities, nespresso coffee machines with complimentary pods and space. 
The modern refurbished apartment-style suites are housed within a magnificent heritage listed building located on the corner of Collins & Queen Streets, with all the best of Melbourne's charm right outside the door.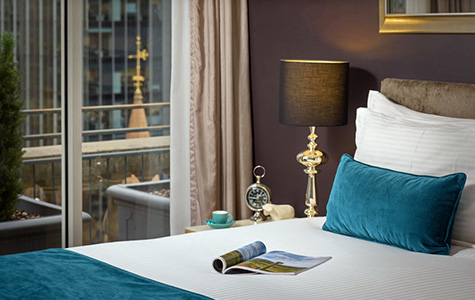 THE ROOMS
Experience the grandeur of Treasury on Collins with a choice of spacious self contained suites and apartments that seamlessly blend old-world elegance with contemporary style. Standard features include Netflix, well-appointed kitchenette, washing machine/dryer and spacious living area.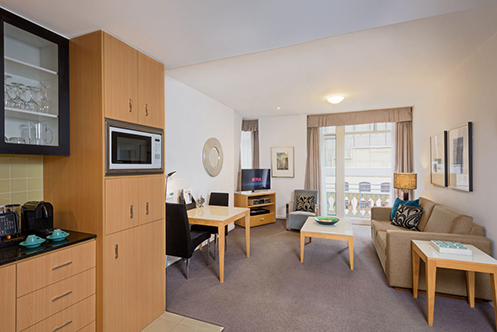 BOOK DIRECT to SAVE 15%
 
We like to reward guests who book direct with the BEST VALUE - GUARANTEED! Rewards such as exclusive offers, upgrades and discounts. If you book directly with us by phone, email or on this website then you're guaranteed the lowest rate and more included value.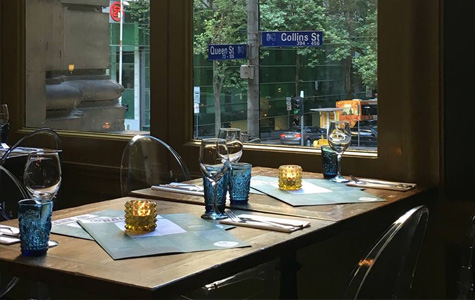 THE BANK RESTAURANT & BAR
The ground floor of the building has been transformed into 'The Bank on Collins', a modern restaurant and bar offering an exciting new dining experience within the glorious heritage listed building. Open Mon-Fri from 11:30am. 
TREASURED GUEST LOUNGE
The Treasured Guest Lounge on the mezzanine level encircles the vaulted foyer and is a beautiful ambient area for all guests to relax and enjoy with complimentary WIFI. Our breakfast has evolved and we continue to make appropriate changes. The offering will continue to be revised as and when appropriate. Wine Down is between 4:00-6:00pm and what is better than a glass of wine...two glasses of wine, free when you book direct.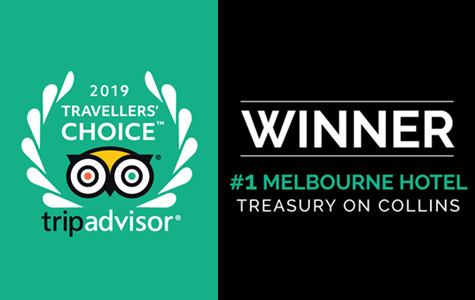 AWARDS & ACCOLADES
Treasury on Collins has been voted Best Hotel in Melbourne for four consecutive years (2019, 2020, 2021 & 2022) and also received an award for Best of the Best in Australia at the annual Trip Advisor Travellers Choice Awards. The awards acknowledge the world's finest hotels based on service, quality and customer satisfaction with only the top 1% being recognised.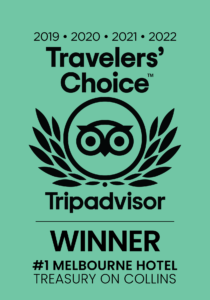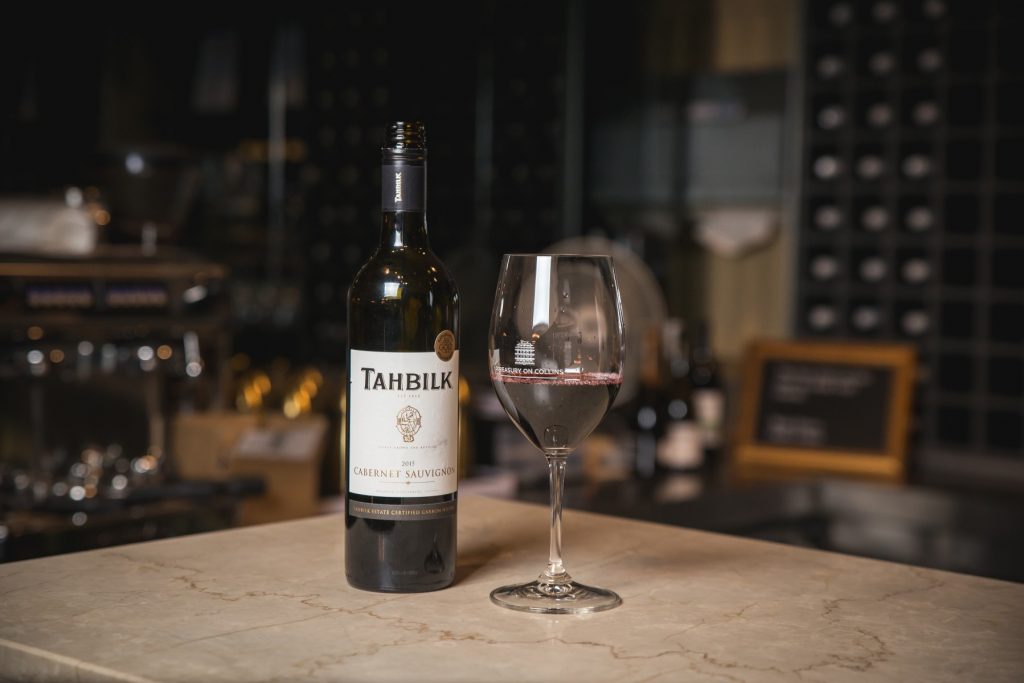 AFTERNOON WINE DOWN 
Guests are invited to enjoy a daily glass of wine on the mezzanine with our compliments at Afternoon Wine Down from 4:00 to 6:00 pm.  Guests who book directly on this website will also receive a top-up.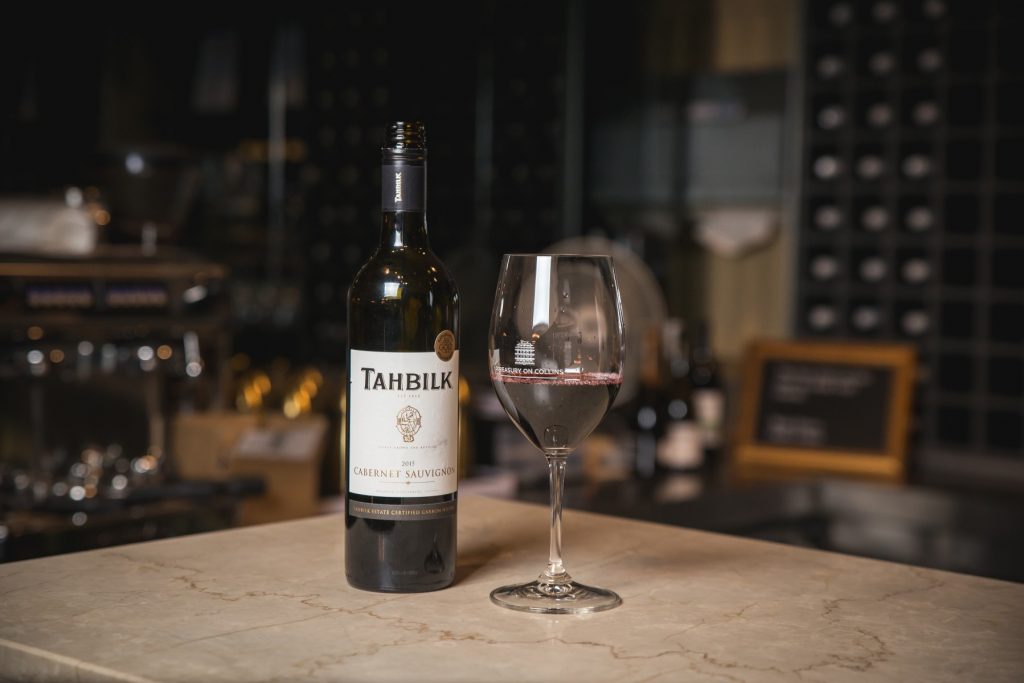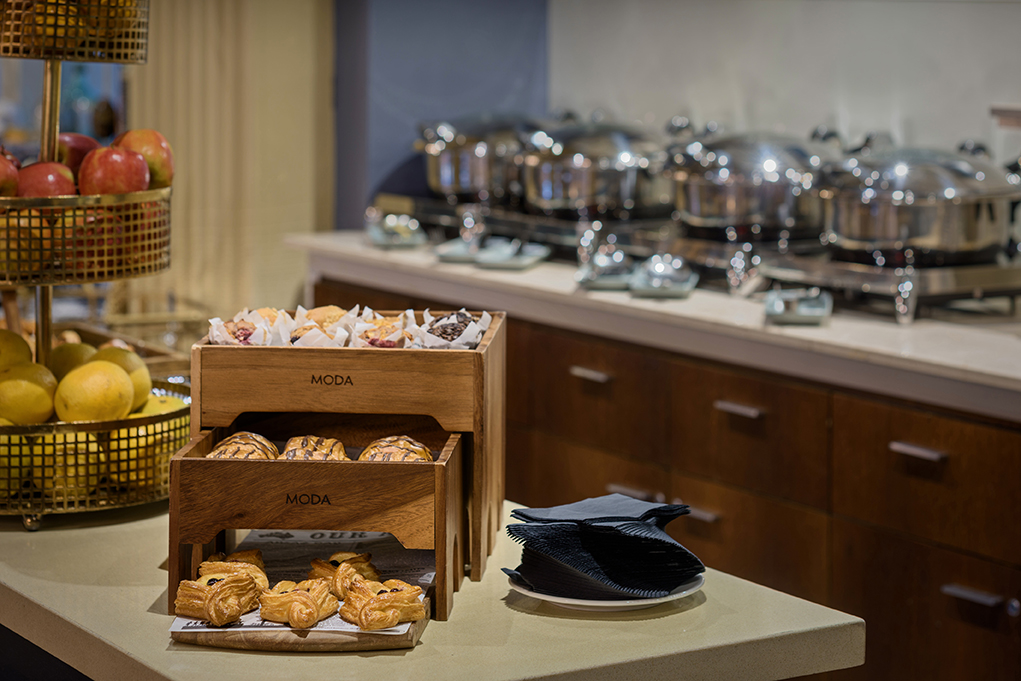 BREAKFAST
A long standing guest favourite. Breakfast is available daily on the Mezzanine from 7.00 to 10.00am Monday to Friday and 7.00 to 10.30am on weekends. Our unique style of buffet breakfast has returned with more tweaks and improvements than ever before.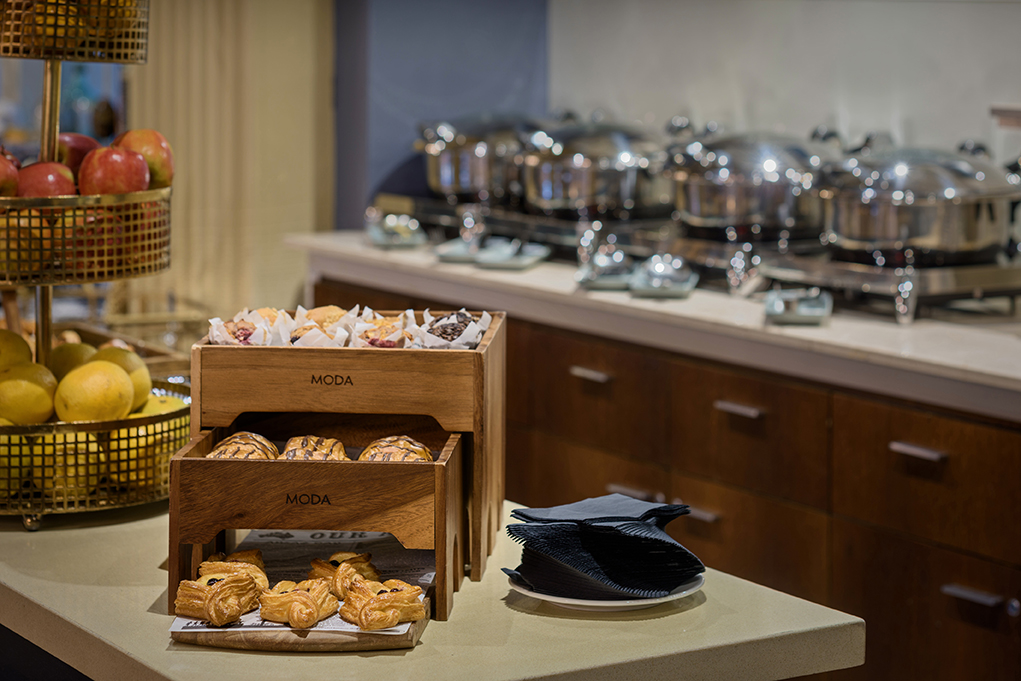 MOLTON BROWN
From their first store in London's upmarket Mayfair to luxurious
destinations across the globe, Molton Brown blend unique and exotic bath,
body and home fragrances.
They were also awarded with a Royal Warrant from the Late Her Majesty Queen Elizabeth II.

HISTORIC SIGNIFICANCE
The heritage listed building was first established as The Bank of Australasia in 1876 and is of architectural significance as an example of conservative Renaissance Revival design. The magnificent exterior hints at what lies within. Enter the building to be amazed by the huge vaulted foyer with no less than 9 grand chandeliers.
FREE NETFLIX
Enjoy unlimited movies and TV series with the simple press of a button on a large 40″ or 50″ Netflix enabled television.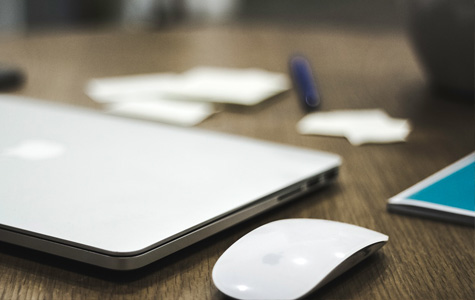 FREE HOTEL WIFI
Stay connected at Treasury on Collins with free Wi-Fi internet in all rooms, and public areas. The lightening-fast business-grade Wi-Fi has been independently tested and found to be the fastest hotel Wi-Fi in Melbourne, by a wide margin. All guests have 24/7 access to free Wi-Fi so you'll never be charged, no matter how much you use – no speed limits, no data limits, no time restrictions, and multiple devices can connect simultaneously.
Fitness Centre
The fitness centre, located on the ground floor of the Plaza Building is open 24 hours per day for guests. The fitness centre is equipped with treadmills, cross trainer, stationery bike, multi station and set of dumbbells.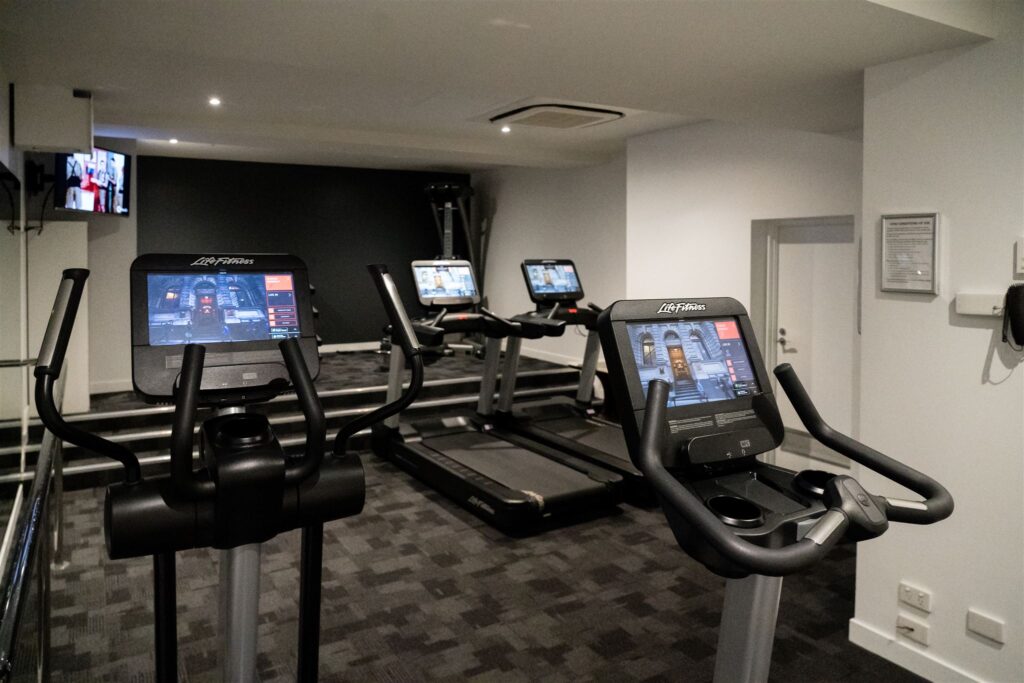 Exclusive Offers and Perks
Get the best value when you stay - don't miss out on our exclusive offers, upgrades and deals