top 5 takeaway & delivery menus
April 1, 2020

March 29, 2021
7 April 2020
One of the unique features that makes Treasury on Collins stand out in Melbourne's accommodation market is that we are more than just a hotel room. Our self-contained apartments combine the best of hotel hospitality and spacious apartment style living to create  your home-away-from-home. Here's why you should stay in our self contained apartments.
#1 Safe and secure
Staying at Treasury on Collins is safe and secure. Our doors currently shut at 9pm and only with a swipe or code can guests gain access inside the building. Accessing floors is only through the use of swipe cards provided and even when your guests arrive, we ask you to come down and greet them in the lobby as we don't permit visitors to any of our floors. Throughout the hotel we also have 24 hours closed circuit surveillance for extra security.
Due to Covid-19, all our rooms and public areas have undergone a deep clean. We have hand sanitiser in all public areas including our lifts and we have ensured that staff are practising social distancing and hygiene procedures.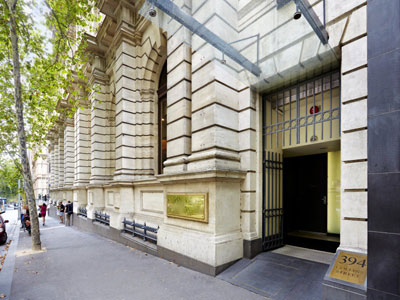 #2 Apartments with kitchenettes and washer/dryer 
Depending on the needs of the guest and budget, we offer a range of room types including suites, 1 bedroom apartments, New York style split level lofts to 2 bedroom apartments. They all include a lot of space and from the 1 bedroom upwards- a separate bedroom and living area for extra comfort. Each suite and apartment include a kitchenette, laundry facilities and full size bathroom with luxury Molton Brown bathroom amenities, reverse cycle air conditioning, 40" flat screen TV with complimentary access to NETFLIX (2 TVs in our 1 bedroom and upwards), pillow menu and housekeeping tailored to your needs.
The IGA supermarket is next door and Coles & Woolworths express is a short 10 minute walk from the hotel, it's easy to become self sufficient while our restaurant, guest lounge and bar are closed due to government regulations.

#3 All-inclusive rates
The best part of our rate is that it's all inclusive. If you plan on staying for 10, 20 or 30 or more days, you don't need to worry about paying for gas, electricity, water, wifi, local telephone landline calls, Netflix or rental bonds – it's all included. Based on the rate plan you decide, your room will be serviced every 3 or 7 days.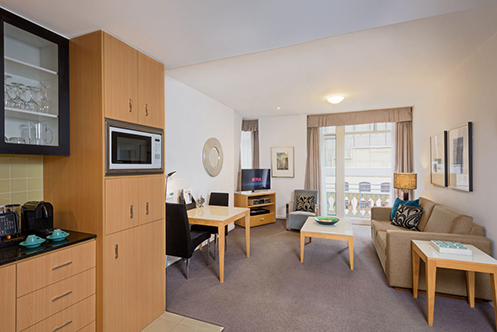 #4 Genuine personable service
If you have read the reviews about us on Tripadvisor, recurring comments are about our wonderful staff. We may sound bias but they are wonderful, very approachable and offer all guests a personable experience. Our front desk staff are available to assist you throughout your stay; whether it's assisting with ordering takeaway food, booking transportation or any general enquiries.