30 October 2018
Corporate travellers and those relocating to another city make up the majority of our long stay accommodation bookings. However,  we are now receiving a growing number of bookings from locals who need short term accommodation while renovating, building homes or looking for accommodation for their visiting friends or relatives.
One thing that all of our long stay guests have in common is a desire to find an alternative to the typical sterile serviced apartment. Treasury on Collins offers the perfect solution by combining well equipped apartment style accommodation housed within a beautiful heritage building and providing all guests access to the exclusive Guest Lounge.  Our long stay guests say our accommodation is a lot more intimate, personable but at the same time (and this may sound cliché), a 'home away from home'.
The warm and welcoming team at Treasury on Collins make our hotel a stand out favourite for guests, plus we also offer very spacious rooms, comfortable beds, kitchenette and laundry facilities.
Here are the top 5 benefits of a long stay with Treasury on Collins.
#1 Spacious and comfortable accommodation
Depending on the needs of the guest and budget, we offer a range of room types including suites, 1 bedroom apartments, New York style split level lofts to 2 bedroom apartments. They all include a lot of space and from the 1 bedroom upwards- a separate bedroom and living area for extra comfort. Each suite and apartment include a kitchenette, laundry facilities and full size bathroom with luxury Molton Brown bathroom amenities, reverse cycle air conditioning, 40" flat screen TV with complimentary access to NETFLIX (2 TVs in our 1 bedroom and upwards), pillow menu and housekeeping tailored to your needs.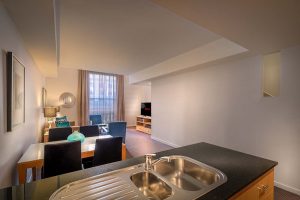 #2 All-inclusive rates
The best part of your long stay rate is that it's all inclusive. You don't need to worry about paying for gas, electricity, water, wifi, local telephone landline calls, Netflix, rental bonds and gym access – it's all included. Based on the rate plan you decide, your room will be serviced every 3 or 7 days.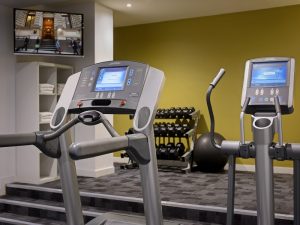 #3 The best perks in life are free
Booking a long term accommodation with us means you will also receive exceptional value and the perks we offer guests who book directly with us. Long stay guests will have the option to include in their rates breakfast on our mezzanine level and complimentary wine from 4-6pm daily. However, if you don't need these perks, we'll take off up to $40 off the nightly rate. There are still other free perks you can take advantage of including access to our Guest Lounge for drinks and snacks daily, free wifi, free Netflix, free use of our printer and free local calls.

#4 Genuine personable service
If you have read the reviews about us on Tripadvisor, recurring comments are about our wonderful staff. We may sound bias but they are wonderful, who are very approachable and offer all guests a personable experience. Our front desk staff are available to assist you throughout your long stay; whether it's assisting with directions or booking you a taxi to recommending where to wine & dine in Melbourne.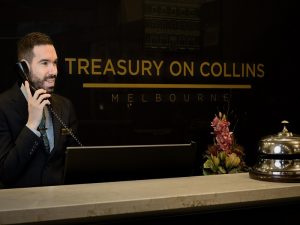 #5 Safe and secure
Staying at Treasury on Collins is safe and secure. Our doors shut at midnight and only with a swipe or code can guests gain access inside the building. Accessing floors is only through the use of swipe cards provided and even when your guests arrive, we ask you to come down and greet them in the lobby as we don't permit visitors to any of our floors. Throughout the hotel we also have 24 hours closed circuit surveillance for extra security.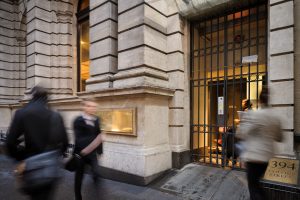 'When you spend a considerable amount of time traveling for work, choosing the right hotel to call " home" becomes very important. The Team at Treasury on Collins made this decision, easy. An enormous gratitude to John, Carlos, Jackie, Jasmeen, Hardik at reception, along with Haries( please bring him back) and everyone who welcomes me with a warm and genuine smile every morning for breakfast or the occasional drink in the evening, at the " mezzanine". I highly recommend TOC for your business or leisure travels' Google review, Anastasia Gavalas
For more information or for a quote of 14 nights or more, contact us directly on +61 3 8535 8535 or enquire online here